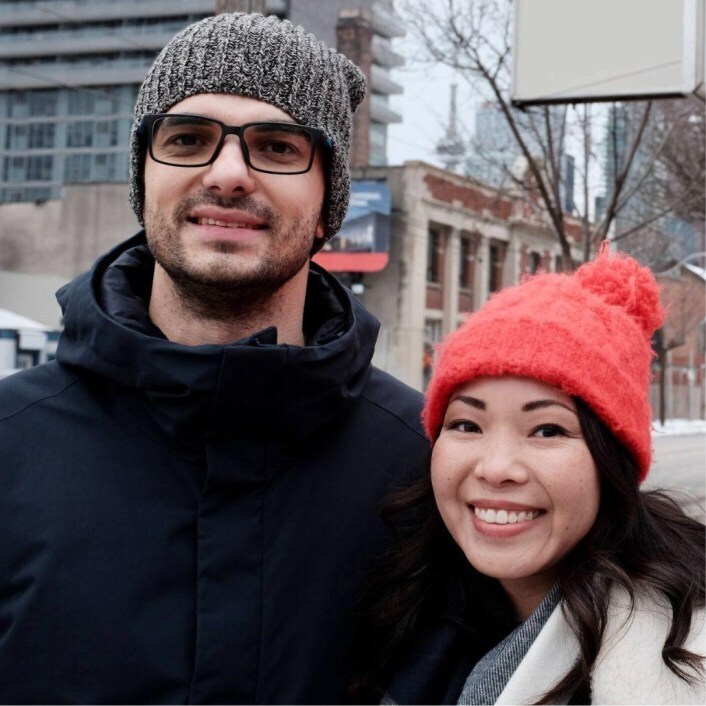 Adam and Sabrina Pietrantonio
Happy new year, everyone! To kickstart our first blog of 2023, we interviewed Adam Pietrantonio who is preparing with his wife, Sabrina, for their deployment to Japan later this month. Let's dive in!
Fellowship International: How did you discern your calling to serve in Japan?
Adam: In 2011, I came to faith as a student at York University. In my final year, through an international student outreach, I met two non-Christian Japanese guys from Tokyo. As I talked with them, I became curious about the spiritual climate in Japan. I did some research, and discovered two facts that confused me; first, Japanese people are the second largest unreached group in the world, and; second, religious freedom is guaranteed under the Japanese constitution. I was so perplexed by the extreme spiritual depravity in this country, and felt God was igniting a desire in me to pursue Japan more.
Upon graduating in 2014, I went on a short-term mission trip to Japan the following year. On this trip, I was exposed to different kinds of ministries, like student ministry, on-the-ground evangelism, and church discipleship programs. After this trip, I was convinced that this was where God was calling me to be—it was just a matter of when.
Through an opportunity with Fellowship International, I was able to spend one year in Osaka just before the pandemic hit. During my year in Japan, I met Sabrina who was at the end of a four-year term there as a missionary. United in our vision and passion for the lost in Japan, we were married in 2021 and are really excited to return to Japan in 2023 for the first time as a married couple.
Fellowship International: What is the focus of your ministry in Japan?
Adam: Sabrina and I have two different passions that coincidentally--or perhaps divinely--overlap.
For me, I have a heart for the men of Japan. I've found out through research that Japanese men are the unreached of the unreached in their country; most of the Church in Japan is attended by women. I want to bring the Light into the spaces where Japanese men are in, rather than waiting for them to show up to a church on Sunday morning. I'm hoping to find people of peace, empower them, and start Discovery Bible Study groups together.
Sabrina's passion is to serve young Japanese girls, particularly those affected by human trafficking. It's a long fight before us, but we are tackling it in faith. One of the ways we are starting is by bringing awareness to the issue by utilising correct terminology, which in itself is a huge hurdle.
While our passions are different, it's interesting how these two distinct demographics intersect. Many of the young girls entering into human trafficking come from fatherless and/or broken homes. It is our prayer that God will touch the lives of fathers through my ministry so that their homes can be transformed and that their daughters will come to know the perfect love of our Father.
Beyond our ministry foci, we want our marriage to be a testimony of our God wherever we go. We've both seen many broken marriages and families in our experiences, so we really want to be intentional about showing Christ's love through our marriage as we head to Japan for the first time as husband and wife.
Fellowship International: What is your God-sized vision for your mission field?
Adam: We really want to see our local church thriving with believers who are effective disciple-makers. We both look forward to discipling younger people in our church so that they're able to further make disciples in their own lives. We hope to see disciple-making movements one day.
Fellowship International: How can our readers support you and Sabrina?
Adam: Please keep Sabrina in your prayers as goodbyes begin in Los Angeles as we prepare to leave for Japan soon. Also, we ask for prayers for our marriage. We're a year and a half in, and we've just jumped into ministry together. Please pray for the Holy Spirit to protect our marriage as we deal with all the day-to-day challenges of our ministry. Lastly, we are praying to cross the finish line in our support-raising goal. We are near the end, and are just waiting for the final 15% of our fundraising. Thank you for partnering with us through your finances and prayers. Because of your support, we are able to pursue our calling and serve the people of Japan.
To partner with Adam and Sabrina, click here.
To connect with Adam, send him an email.