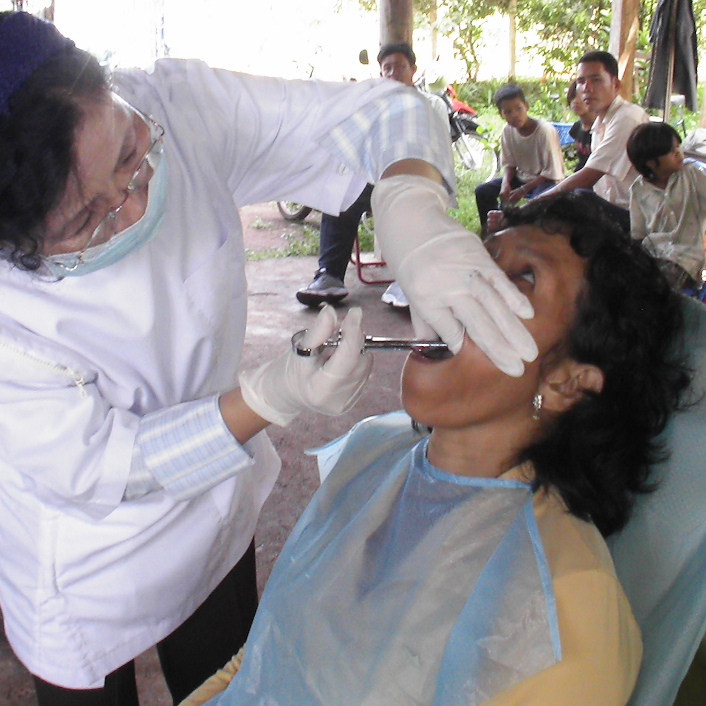 Have you ever had a sore tooth? If you have, you likely remember how much it affects your life. It's hard to focus on daily tasks. Motivation to be active probably drops. Eating starts to seem like a chore. You probably get more easily frustrated or angered.
Dental health is an important part of leading a healthy life. For most of Canada's population, dentistry is relatively accessible. That means if you have a toothache, you can get it fixed quickly with little to no pain.
In Cambodia, those living in remote communities are unlikely to have ever sat in a dentist's chair. Fellowship International missionaries Oeut and Nhep Pech are helping to make oral hygiene more accessible to some of the most isolated villages in Cambodia. This faithful couple runs a mobile dentistry ministry that provides services, free of charge, to some very poor people. Nhep is a dentist, and Oeut is a gifted evangelist. Through the clinic, they help relieve dental pain, perform general checkups and cleaning, provide oral hygiene education, and distribute toothbrushes and toothpaste. Every person who comes to receive dental treatment also encounters the Good News and the promise of the cross.
Over the course of 2019, the clinic treated 1,195 patients, distributed 1,235 dental care packages, and saw 22 visitors commit their lives to Christ.
In Winter 2018, FAIR launched the Brightening Smiles (Cambodia) appeal to support the Pech's ministry. Since then, over $70,000 has been received to support the mobile dental clinic. These funds are used to purchase supplies like gauze, sterilizing chemicals, facemasks, gloves, dentistry tool replacement, and gas and maintenance for the vehicles used to transport the people and equipment necessary to make the clinic happen. The Cambodian government doesn't provide resources so the support of Fellowship churches and donors is essential for this impactful ministry to continue!
You can learn more about the Pech's ministry with the FAIR mobile dentistry clinic here.
Will you pray with us for Oeut and Nhep and the team that make the clinic happen? Pray for safety and protection as they travel in remote areas. Pray for wisdom and guidance as they minister to patients and share the Gospel; pray that they would encounter hearts open to hearing the Good News.