A little over a week ago my wife mentioned that over 350 people had died in Italy on one day (March 15) from the COVID-19 virus. The seriousness of this unprecedented time seemed to sink even deeper in my gut upon hearing this sobering statistic. That was just one day, in one country. A developed country! The statistic represented someone's mother, grandfather, child, friend, baby. Lost forever. Oh Lord, what are we to do?
I heard from one of our own Fellowship International missionaries in Europe this week. He said they were confined to their home but were using Zoom to remain connected. He wrote, "This unusual situation opens doors for interesting discussions about spiritual matters. Since Monday I've had opportunities to share my hope with three non-Christians. People around us are anxious and destabilized. I believe God in His mercy wants to STOP US from our frenetic way of life to speak to us. We need to be recentred on what is essential. "But seek first His Kingdom and His righteousness, and all these things will be given to you as well." (Matthew 6: 33)."
My wife and I were out the other day and she pointed out a random sign that said, "Be still". Marilyn mentioned to me she thought that was good counsel for all of us in these days of uncertainty and upheaval. "Be still and know I am God" (Psalm 46:11). In our stillness we should find and experience peace. A peace beyond the common understanding of those around us. But stillness doesn't necessarily mean inactivity. Most of us would agree this pandemic is an opportunity for the Church to shine.
A friend of mine, who happens to be another denominational leader in Canada, recently wrote saying he and his wife were sending hand written notes to 20 of their immediate neighbours. I thought it was a brilliant idea and hope some of us will consider doing this as well. Here is what they wrote: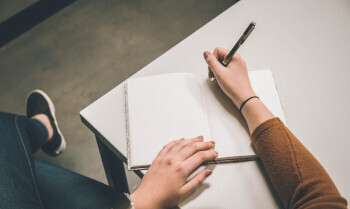 "Hello! We are your neighbours, (insert your names), and we live at (insert your address). In light of the fact that some of us may get sick during the COVID-19 virus pandemic and we may have to stay home, we wanted you to have our phone numbers. Please call or text if we can help in any way. If you run out of supplies or need groceries picked up or dropped off at your door, we are happy to help as much as we are able. We are all in this together! You are not alone! Our phone numbers are (insert your cell numbers)."
One of my wife's friends posted on FaceBook, her willingness to care for two school-aged children, free of charge, during the two-week extended March break (in Ontario) when parents are desperately scrambling for child-care and they are still required to go to work.
Let's get creative. Let's be the hands and feet of Jesus while we take care of our neighbours and one another. Stay safe out there.