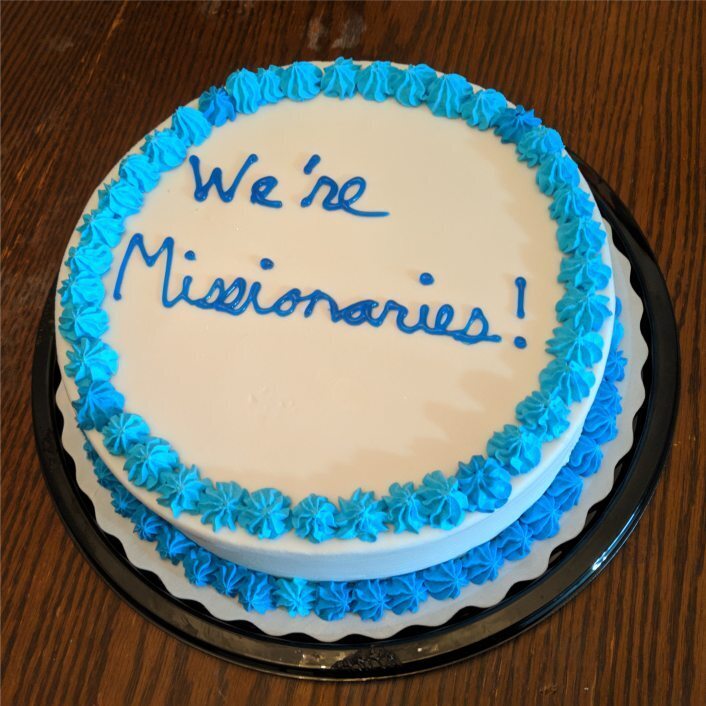 The day came when we received a phone call from Fellowship International informing us that we were officially appointed as missionaries. What an exciting time for our family as we looked back on all that God had done to get us to this point and now confirming it with this step. The prior 18 months of following God's leading, seeking Him in prayer over every step, and surrendering every step in obedience, were filled with God's grace and faithfulness. We celebrated with cake and felt the excitement well up inside.
And then a mountain was placed in front of us: "support raising." Yes, we knew it was coming after being appointed, but when initially faced with the reality of it, that mountain looked enormous. Actually, more enormous than we ever remembered. Having never climbed this kind of mountain before we felt under-prepared and outside our comfort zone. This was new territory and it was a massive climb ahead.
God, in His perfect timing, through Sunday morning worship at church, encouraged us with these words:
"I've seen You move, you move the mountains
And I believe, I'll see You do it again
You made a way where there was no way
And I believe, I'll see You do it again!
Your promise still stands
Great is Your faithfulness,
I'm still in Your hands
This is my confidence, You never failed me yet."
God had never failed us yet! God would make a way, especially since we truly believed He wanted us in Lebanon as His servants. With this in mind, and after reading through the book "The God Ask" given to us as a resource for support-raising from the Fellowship, we knew what our next step was.
We surrendered this mountain and laid it at the feet of our Great God and began praying Philippians 4:19, that: "God [would] supply every need of [ours] according to His riches in glory in Christ Jesus" in a way that would confirm our calling and bring Him great glory. We asked the church to pray. We asked our friends and family to pray. Our children prayed.
What unfolded over the next several months was nothing short of a miracle. As we met with people and shared our journey and vision with them, God's abundance of riches began flowing through His people. We had the incredible gift of witnessing God meet our every need. Not only was this a huge encouragement to us, but it was a blessing for our church to witness, for our family and friends to witness, for the Fellowship to witness, and for our kids to witness. God provided in a way that the only response was to point to Him and give Him the praise. We simply left it in God's hands and asked Him to put His power on display. God answered these prayers and obliterated that mountain! After four months of support-raising we were given the go-ahead to book flights to leave for Lebanon!
Now to Him who is able to do infinitely more than all we ask or imagine, according to His power that is at work within us, to Him be the glory in the church and in Christ Jesus throughout all generations, forever and ever. Amen. (Ephesians 3:20-21)