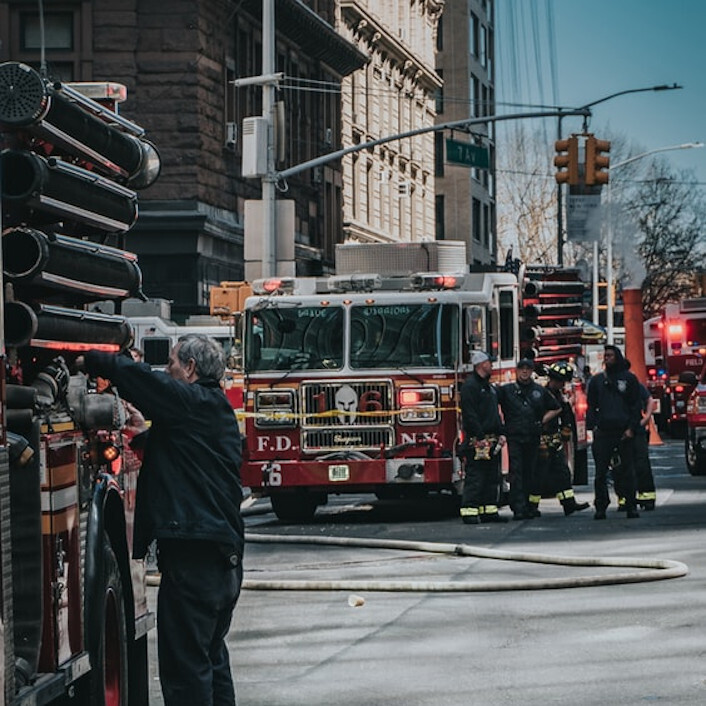 First responders are the only brave people I know who run toward, rather than away from, a fire or armed conflict.
We have many Fellowship chaplains who minister to police officers, fire fighters, and paramedics. Some are in full-time employment while others are pastors who also serve as volunteer chaplains in their community police or fire detachments. Here are a few of their stories:
Aaron Groat
Chaplain with Halton Regional Police
Oakville, ON
"My journey as a chaplain for the Halton Regional Police began in the spring of 2017. It started as an invitation to meet with a sergeant and have a conversation. Little did I know that they had been watching me for some time and had decided to ask me if I would be interested in coming on board as their new service chaplain for District 2 and District 3 in the Region.
"I was issued some protective equipment and told I could get started. But where?
"The job of a police service chaplain has been described as to 'loiter with intent." You are not a police officer, nor will you ever be and that makes the task of chaplain very difficult in a law enforcement environment. You are there to be supportive, encouraging and, if need be, talk about issues that they are dealing with. This requires a lot of trust.
"You need to understand that with police I was a "them" and not a "we." For officers, everyone is a "them" and only rarely do you become a "we." Moving to a "we" means inclusion and that is a tough place to get to. Building trust is part of the equation and that takes time. I also needed to demonstrate that I was for the police and not simply a silent bystander.
"How was I going to build trust with the officers? Little did I know that God was moving to help me build that trust beyond anything I could ever imagine.
"One night while on patrol with a platoon in Oakville, we got a call for an alleged impaired driver who needed to be stopped. As we approached the car, the driver pulled away and slowly came to a stop in the corner of the intersection. The driver was commanded to exit the vehicle and told he was under arrest for suspected impaired driving. The driver became combative and refused to comply with the officer's orders. The officer requested assistance from me and the suspect was apprehended. The officer was relieved and very grateful for the assistance given.
"What happed next was something that only God could have orchestrated.
"That night I had earned a little bit of 'street creed.' What that meant was that God opened doors for me to move a little bit closer to the "we" side of law enforcement life. That evening I was able to talk and meet the officers in a fresh and meaningful way. The rest of the night was spent entering into their lives and encouraging them. It was unbelievable how God opened those doors and I will forever be grateful for the way that He can use me to build relationships and show the love of Jesus. The next day I woke up to emails from the Chief and my Inspector who were checking in on me and thanking me for my involvement. I'm still building trust over time, but in that one event, God moved the ministry along further than I could have ever imagined.
"I am looking forward to continuing this ministry of 'loitering with intent' and seeing what God does as I journey from "Them" to maybe one day, a "We."
—Aaron Groat serves as pastor of Calvary Baptist Church in Burlington, ON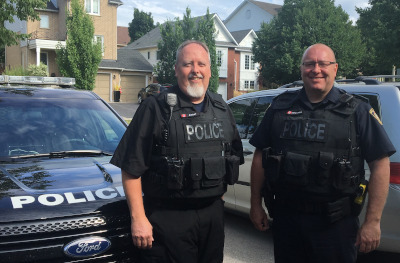 Aaron Groat with a Halton Regional Police superintendent
Todd Riley
Chaplain with Toronto Fire Services
Toronto, ON
"My name is Todd Riley and I am blessed to pastor Islington Baptist Church. I have also served as a volunteer chaplain with the Toronto Fire Services for the past 10 years.
I am chaplain for the West Command of the Toronto Fire Services.
"I visit about 21 fire halls (there are four different shifts). I visit, 'shoot the breeze', make myself available for whatever the fire fighters want to talk about and am involved in more formal ways; I do funerals, weddings, various public events (Remembrance Day services, Fire Fighter graduation services, memorials). In my role, my goal is to share Christ with whomever will listen, as the Lord leads.
"I am also part of the Employee Assistance Program (EAP) and Crisis Team. When things go 'sideways' for firefighters, the EAP will respond to provide emergency first aid (psychological).
"Please pray for clear opportunities to share Christ and that I would be found faithful in my role."
Jim Turner
Surrey, BC
"I have been providing care to the police community for 36 years, and 18 years on salary with the Royal Canadian Mounted Police and on contract with three other police agencies. This gives me access to over 8,000 police officers for spiritual care.
"My professional life began in our family business, which was Nanaimo Bottling Ltd. and was the manufacture and distribution of soft drinks. I learned the business from my father and was taught to think for myself and resolve problems. I learned the business from the bottom up.
"In 1972, after selling the family business, my wife Shelley and I were married and I was called to ministry and began my Bachelor's Degree at Northwest Baptist Theological College. While at college I served as Student Pastor and then Assistant Pastor at Richmond Baptist Church. A year after graduating, Shelley and I moved to Dunbar Heights Regular Baptist Church as pastor.
"In May of 1982, I went for a ride with a member of the church I was pastoring. Little did I know how that ride would change the future course of my life. I felt a connection that night with the policing community that continues to this day. Speaking internationally on the care of police, a trip to the FBI for a project to help lessen the number of police suicides, and 22 years of training in various settings (all relating to the policing culture and how to stay current with the fast pace of change)!
"Still the trust of the policing personnel and the willingness to be able to be "present" in times of need for great people is my honour and continues to drive me even 36 years later."
— Jim Turner has served as chaplain to the police since 1982. He lives in Surrey, BC.
Thank you for praying for our Fellowship chaplains. When you see a fire engine, police cruiser, or ambulance race by you, consider praying for those chaplains seeking to give spiritual support to our first responders.