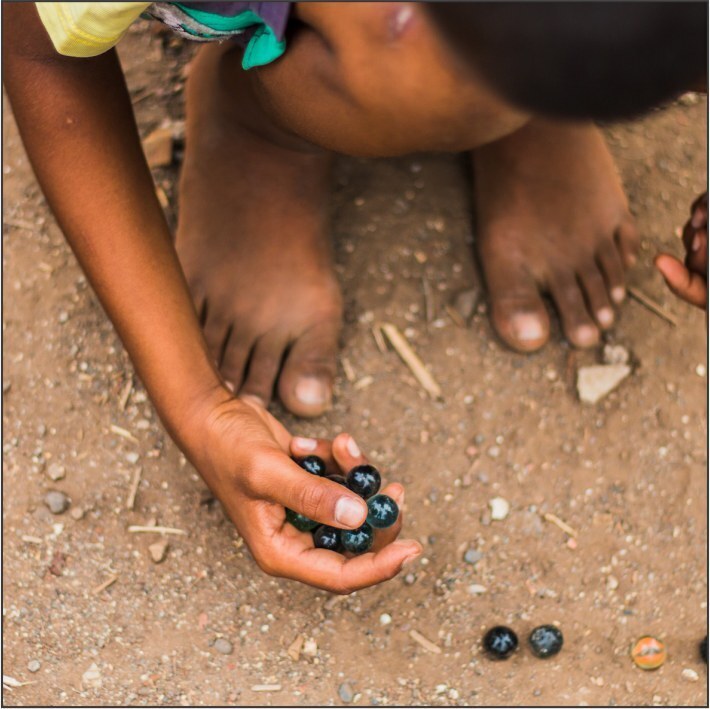 Once upon a time there was a little girl who had been sent out to play in the driveway of her home. That didn't seem like a dangerous place. After all, what could go wrong in a driveway when neither the owner of the house or the tenants had vehicles? Still, danger often follows even one little girl in a private driveway.
Before the days of video games, apps and iPads, a game of marbles provided kids with lots of entertainment. Someone else must have been playing earlier in that same driveway and lost a marble. The little girl found it, and thinking it might be something good to eat (we will never know why) put it in her mouth and swallowed it! Unfortunately it was too big a marble for too small a throat and she began to choke. From her kitchen window, which looked out over the driveway, the landlady heard the desperate sound. She ran outside, flipped the little girl upside down, pounded her on the back, and dislodged the marble.
What's the point to this story? Well, the danger was out there. The little girl didn't understand the danger and couldn't help herself escape its inevitable consequences. The landlady responded to the danger. A life was saved.
There are other children all around the world who live in the midst of danger and who need a rescuer. Their "marbles" have names: poverty, conflict, abuse, predators of all kinds, a myriad of things that threaten to suffocate all the potential in their lives, shorten, or even destroy those lives. Children at risk.
In September 2019, the Fellowship Child Sponsorship program was launched. The program is seeking to provide sponsorships for vulnerable children in Sri Lanka, Honduras and Lebanon. Each sponsorship is $35 per month, and provides the opportunity to make a difference in the life of a child by helping to provide food, shelter, education, medical attention, and a place to be safe and loved.
In addition to this new program, FAIR's Journey With a Child appeal is raising $80,000 which will be used to establish a solid foundation as the child sponsorship program is launched. These funds will provide for field oversight, finances to operate the various locations until sponsorships are established, and other start-up costs. The Journey With a Child appeal will ensure long-term stability for this program.
FAIR is seeking to address the needs of some of these most vulnerable children. And you, like one little girl's resident and responsive landlady, can help come to the rescue and turn a bitter reality into a better one. You can be part of a child's spiritual journey as he or she is introduced to Jesus Christ and invited to join Him on the best journey of all.