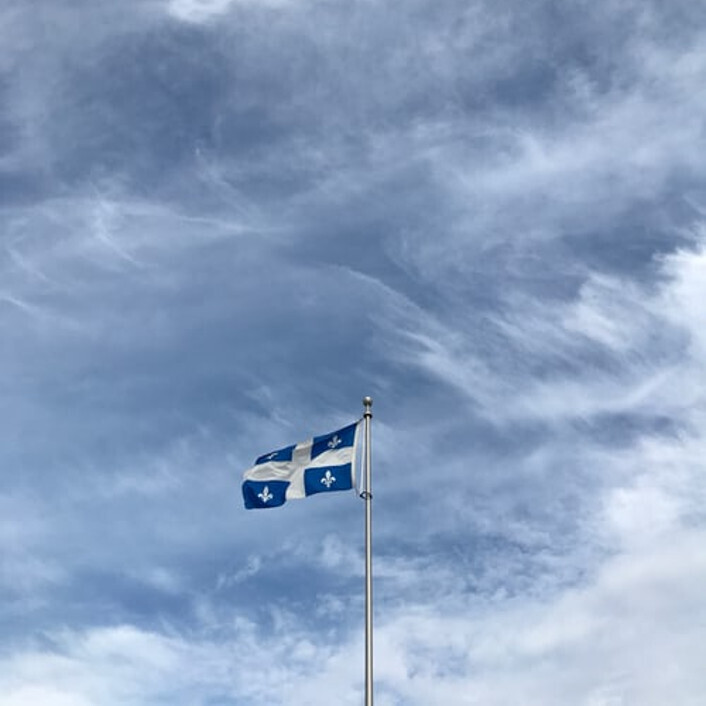 French Canadians continue to be one of the largest unreached people groups in all of the Americas. With over 7 million in Canada and only 0.8% self-identifying as evangelical Christians, the spiritual needs are staggering. They remain the largest mission field in Canada.
Let me tell you about a recent story in one church plant in Plessisville, QC.
Both Pastors Peter Erratt (Red Deer, AB) and Karl Fortin (Plessisville, QC) tell their stories below.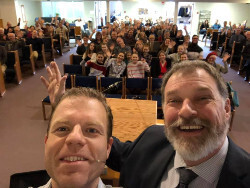 Karl and Peter
Peter's Story:
"I just wanted to briefly share with you a story of friendship, thanks to our Fellowship National strategy of connecting churches across our country. In 2014, I accepted an email invitation to fly out to Quebec and tour around for two days to meet Fellowship friends in various locations of the province. I was prayerfully sent by our church leadership to look for a strategic partner for our church in Red Deer, AB. It was on this trip that I was introduced to some new friends, Steve Cloutier and Karl Fortin of Plessisville, QC. In 2015, we signed the 7-year partnership agreement between our two churches, and our relationship has grown from strategic partners to family friends. In 2017, I flew my family (my wife and four girls) out to Plessisville to partner with them in their "j'aime mon voisin" summer ministry outreach. It was during this time that Karl and I saw our families serve together and become friends, and we felt blessed and thankful. Since then we have had the opportunity to connect various times over the past few years, and each time we are encouraged and thankful to know each other. We just spent a whole week (January 2019) with Karl and his wife, Naomi, and their four girls here in Red Deer. I have to say, I never thought we would gain such good friends when I accepted the invitation to go to Quebec over six years ago. I just wanted to thank the Fellowship for connecting our two families and our two churches. We have become not only good partners in ministry, but our relationship has developed into a great friendship."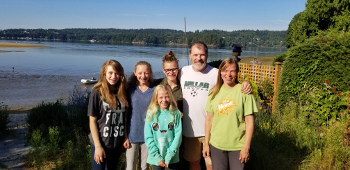 Peter Erratt with his family
Karl's Story:
"The Vision Tours Steve Jones has organized to pair English Canadian churches with Quebec church plants has not only made church planting in Quebec more possible, it has also set the stage for partnerships to evolve into relationships. Through that, beautiful friendship can emerge. This is what I feel has happened between Peter's family and ours. At first Peter and I would connect at conventions. That connection was then strengthened with trips to Alberta and hiking in the Rockies! Then we integrated our families into our relationship (Peter and I each have four girls who are close in age), and the connection has been really good on that level, as well. As we were getting ready to leave Red Deer in January after visiting the Erratts, my girls were pleading to move to Alberta! This relationship is good for our churches, as it is a great testimony of bridging the gap between Quebec and the rest of Canada. However, it is also incredibly good for me as I get a great friend with whom I can serve God on the same project, but from a different perspective. I am thankful for God's grace and how he has orchestrated the friendship between the Erratt and Fortin families."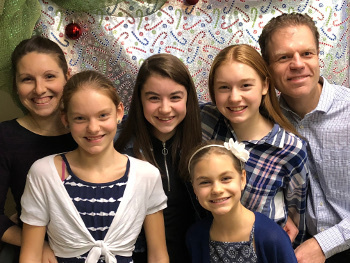 Karl Fortin with his family

How to Get Involved: 7x7=1
While the AÉBÉQ Region has matured and the Fellowship French Mission dissolved, the spiritual needs of Francophone Canadians are still staggering. They remain one of the least-reached people groups in the world….and they are right next door.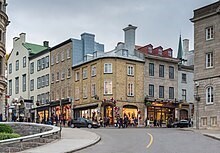 Old Quebec City, QC (Wikipedia)
Because of our proximity and history, the Fellowship of churches and our faithful donors from across our nation have a unique responsibility and opportunity to support church planting among Francophones. It is crystal clear that church planning in Quebec has been, and will continue to be, the most effective way to reach new people and new communities with the Gospel.
Our partnership strategy continues to focus primarily on Quebec, where 85% of Canada's Francophones live, however we will also focus on the other French-speaking regions of our country. It is our sincere hope and expectation that dynamic church planting partnerships will be developed between English-speaking congregations and/or individual donors and Francophone church plants across our nation.
The Plan: 7x7=1 Yes, we know…the math doesn't work, but the plan will! It involves:
*7 Churches and/or Donors — Fellowship National has the responsibility to prayerfully seek out and find churches or individual donors to partner with Regionally approved Francophone church plants.
*7 Years — Fellowship Regions have the responsibility to manage and encourage these partnerships between churches or individual donors and Francophone churches within their Region. These partnerships will be in place for seven (7) years, with the possibility of a three (3) year extension.
*1 Francophone Church Plant — Our partnership objective will be to see each Francophone church plant develop and mature into an autonomous self-governing, self-supporting, and self-propagating local church to the glory of God!
Join my next "Quebec Vision Tour" on October 7-9, 2019. Twice annually I take a dozen pastors and church leaders to Quebec on an exposure tour. Over 48 hours they visit seven to eight church plant locations (meeting the church planter and launch town) and get a good idea of the massive spiritual needs among Francophones. They are Canadians who speak French, and most are entering a Christless eternity.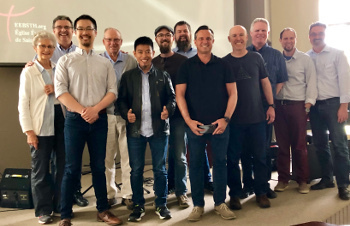 The QVT team in Montreal on June 3-5, 2019
My prayer continues to be that every Fellowship church might partner with our predominant "Samaritan" (Acts 1:8) people groups, Francophones or First Nation peoples. I recognize that there were poor connotations associated with Samaritans in Jesus' day. All I mean by the use of the term is people who are in our society, but are "distinct" from within the culture.
If interested, click here and take a few minutes to watch a brief video describing a "Quebec Vision Tour" (QVT) experience.
Please pray about supporting the mission in Quebec. Consider joining me on my next QVT on October 7-9, 2019. I need to hear from you soon….first come, first served.