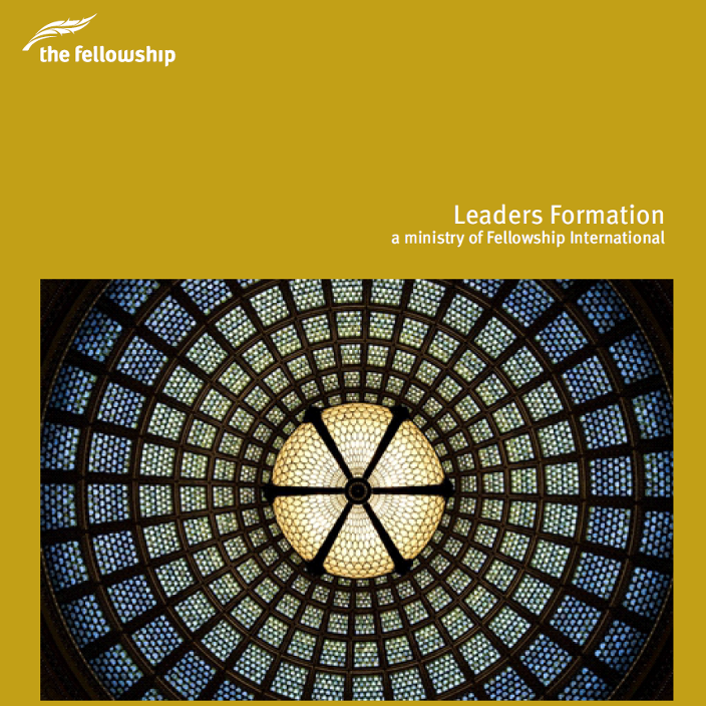 Our Fellowship International department is partnering with Fellowship churches and pastors to get involved in the training of pastors and leaders in churches around the world. You could get involved in the Fellowship's "LeadersFormation" ministry led by our Coordinator Hannibal (Hanni) Muhtar.
What is LeadersFormation?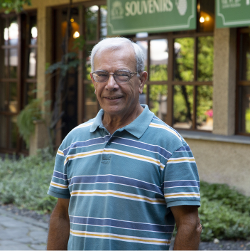 Hanni Muhtar, LeadersFormation International Coordinator
Due to limited resources, pastors in a number of countries around the world have had no opportunity for theological education. LeadersFormation is a ministry of The Fellowship that promotes a joint effort of churches across Canada who are partnering with churches in other countries to provide leadership training and development where it is either unavailable or not possible. In the last two decades LeadersFormation has trained hundreds of church leaders in a number of countries while our own churches have benefited from both the partnerships and the training they facilitate.
LeadersFormation Stories
Facilitating and More in Nigeria
(report by Pastor Mark Farrow, Stoney Creek Baptist, London, ON)
Facilitators from Canada lead the sessions and help participants complete one manual per visit. They have the opportunity to see benefits just as Mark Farrow and Hanni Muhtar did in the town of Owerri. Mark shares,
"We were able to finish the book Passing On Your Beliefs with time to spare on Thursday. Many of the men seemed to be quite challenged by the Word of God's charge to men to be the spiritual leaders in their home and to be actively training their children to pass on the faith. Several shared positive testimonies of what God had been teaching them, and they were all very encouraging. It was also a blessing hearing many of their stories of the spiritual opposition they have faced (and continue to face) in the planting of their churches and how God continues to show Himself stronger time and time again. It was beautiful. The stories were like stories straight out of Acts. I praise God for what He's doing in southeastern Nigeria!"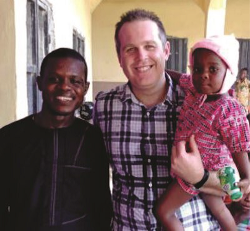 Mark Farrow and a Nigerian pastor
And there were unexpected highlights for the team:
"In Owerri on the way back, the security guard who checked my bag saw my Bible and asked me to pray for him right then and there. The security guard beside him paused checking the bag of the person beside me and bowed her head along with us. Then the final security guard, who saw and heard everything, asked me to pray for him! When I pray in those situations, I always preach the Gospel in my prayer. Join me in praying for these guards."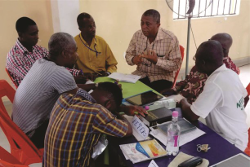 Nigerian pastors studying together
Beyond the four days of working with participants, how else do our facilitators get involved locally?
"I would highly recommend any facilitator that (participates) to plan to stick around for the National Conference of the TETMI churches. It was fantastic getting to see several of the men in a different setting (outside the "classroom"), being pastors to their church families. And it was great to be able to meet their wives and children! I spoke three times over the three days and it was an absolute blessing!"
Growth in the Philippines
(report by Pastor Ian Smith, Mayerthorpe Baptist, AB)
This project consists of two cohorts, one based in Ormoc, Leyte and one in Banga, Mindanao. Pastor Ian traveled to the Philippines along with his family, and took Jason Eklund, one of his elders, as well as Jason's family. Jason has been trained as a LeadersFormation facilitator.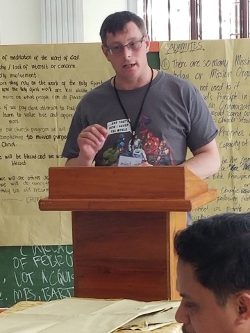 Jason Eklund facilitating a training session
The Philippine cohort has been in operation since 2015 and students are at the point where they are involved in the actual facilitation of the sessions. Ian shares, "The participants handled 95% of the facilitation time and overall they did a very good job. In fact I was surprised by the engagement of certain leaders." They were able to ask key follow-up questions and had the opportunity and skill needed to challenge fellow students on their responses.
After gathering together over the last four years, it is an encouragement at this stage to see how much students have advanced since they first began to participate in the program. Ian writes, "I could see growth in them since May 2018, and when I think back to 2015 it is almost unbelievable that this is the same group. They continue to do well."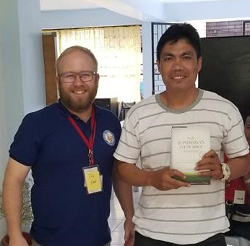 Pastor Ian Smith with pastor Edsil
And just as with other projects, there is more to the week than just facilitating. Ian continues, "The Eklund family visited a sponsor child they support through Compassion Canada. I was privileged to preach four times during the Ormoc week and again in a church in Banga. As well, our team was invited to a couple of birthday parties being celebrated within the church family. We also visited Lake Sebu as tourists for a few hours before we began the co-hort."
In the Banga cohort, the work of facilitating has its highs and its lows. It was a great encouragement for Ian to see one particular student excel in his ability to facilitate the cohort and to engage his classmates in in-depth discussion. However, students are still needing some prompting for deeper questions that bring about more in-depth discussion.
These two cohorts graduate this year and several of the participants are planning to continue mentoring others.
Kenya
(by Paul Harbourne)
In May 2018 we had the initial session of the latest LeadersFormation Kenya project in the town of Kisii in the western part of the country near Lake Victoria. We were blessed with a good group of 23 passionate church leaders from three different areas of the country gathering at the St. Vincent Centre to begin our learning together. The participants quickly blended and for that we were thankful as many had met for the first time. We had some very in-depth and, at times, animated discussions as the group worked through the issues of baptism and Christian liberty. We had an excellent spirit of questioning and explanation as we came to the biblical truths on the issues. What a blessing to see this dynamic develop so quickly.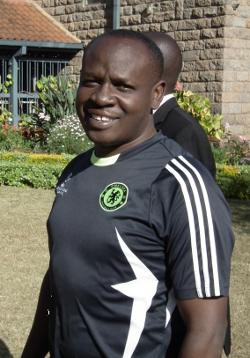 Cedric Shibuyanga, Regional Coordinator
Much of this would not be possible without our Regional coordinator Cedric Shibuyanga who lives in Kenya and understands culture and language so very well. He can quickly clarify concepts that get lost in translation and has become an invaluable partner and a dear friend.
Cedric has already planned to check in on each group in their home areas before the next session.
—Paul is senior pastor at
Fellowship Baptist Church in Collingwood, ON.
Partners Needed!
We are looking for four more churches to partner in the project in Indonesia which is due to begin in 2019. The Kenya and Nigeria projects are also looking for additional partner churches.
Partnership includes spiritual support through prayer, financial support by giving through Fellowship International, and practical support by sending trained facilitators to the project once a year. Click HERE to contact Fellowship International for more information.