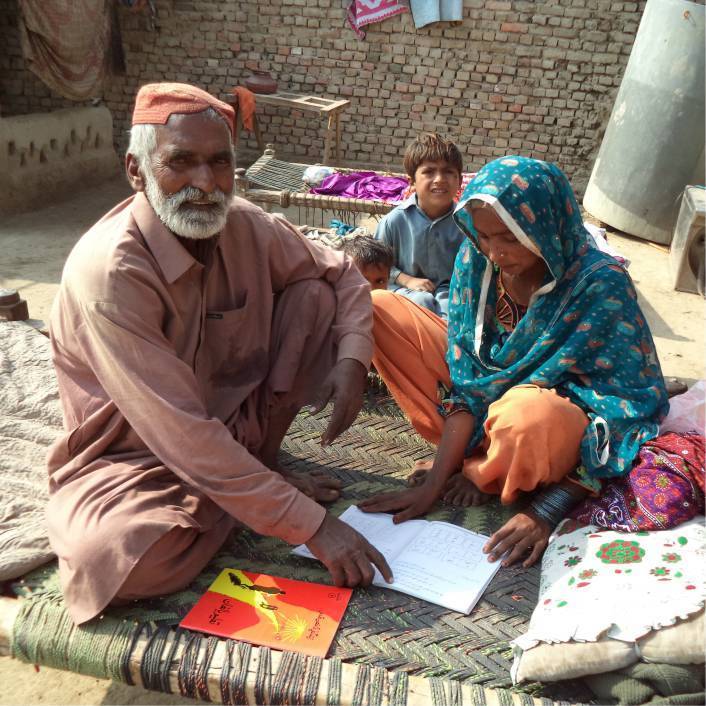 For over 50 years, Fellowship International personnel have been hard at work in the Sindh province of Pakistan through a variety of ministries. They have served as church planters, disciple-makers, field leaders, teachers, nurses, midwives, and administrators using their God-given skills and abilities to provide care – physically and spiritually – to the general population, introducing them to the God who loves and cherishes them. While over the decades the ministry has evolved and fluxed depending on the personnel available and the diverse needs seen, the commitment and love for the Pakistani people has remained strong.
Despite the challenges experienced in an often harsh environment with deep opposition, the Lord continues to bless the efforts of those He has called to this field and significant inroads are being made to see hearts surrendered to Christ.
We have a unique opportunity to partner with Fellowship International in Pakistan. Through the Mission
Possible: Pakistan appeal, we are seeking to raise $60,000 which will be used in four key areas aimed at advancing His Kingdom in this challenging work.
1. New Missionaries Preparing to Depart
Missionary appointees, Kevin and Micaela Miller (from Edmonton, AB) are partner-raising in preparation for their departure to Pakistan. God has given them a passion for evangelism and discipleship and they are eager to come alongside and minister to the people in the Sindh. A portion of the funds raised through this project ($20,000) will be used towards language study and assisting the Millers as they settle into ministry.
2. Sindh Language Media
Fellowship missionaries Rod and Donna Black served in Pakistan for over 20 years. Today, Rod's ministry includes a significant component that involves the preparation and production of print and audio visual materials (books, music, videos) in the Sindhi language. Many Pakistanis have demonstrated a keen openness to discuss religious matters and there has been great reception for resources in the Sindhi language. Financially, it has been a struggle to reproduce and distribute the resources needed for the growing number of Pakistani people who have indicated an interest in spiritual matters. We are striving to raise $10,000 through this project to purchase, produce, and distribute print and audio visual materials.
3. Shikarpur Christian Hospital
The Christian Ministries team at Shikarpur Christian Hospital (SCH) was assembled under the leadership of recently retired Fellowship missionary, Elaine Eby, and is an integral part of the hospital's ministry. They are the spiritual care component to the holistic care that the hospital provides. Caring for patients, their families, and visitors to SCH both at the hospital and within the community, the Christian Ministries team is comprised of four workers who effectively engage with people who come to SCH for care. Together they serve as chaplains within the hospital, and as evangelists and disciple-makers throughout the northern Sindh province. Working through the hospital, they have unique opportunities and often an open door to share Christ. We are seeking to raise $15,000 to assist with transportation and operation costs for this team, in addition to a modest salary for team members.
4. Pakistan Bible Correspondence School
For the past 50 years, the Pakistan Bible Correspondence School has been making it possible for thousands of Pakistanis to study the Word of God through correspondence courses. A team of four men work to provide print and electronic media to those who indicate a desire to learn about Jesus. Without their efforts, many of these people would never have heard the Truths of the Gospel. The team also provides access to God-honouring music and videos in the Sindhi language distributed on MP3 players and SD cards (to be played on cellphones). Fellowship International missionaries, Rod Black and Terry Wiley, have had a long and fruitful partnership with the leaders of this life-giving ministry. Through this appeal we hope to raise $15,000 to be used to purchase equipment and supplies for the PBCS team, and to provide very modest salaries for these workers.
Will you prayerfully consider the role God would have you play in reaching the Pakistani people for Christ? Each of these projects is involved in bringing the Good News of Jesus Christ to this spiritually dry and thirsty country.
To donate click here.