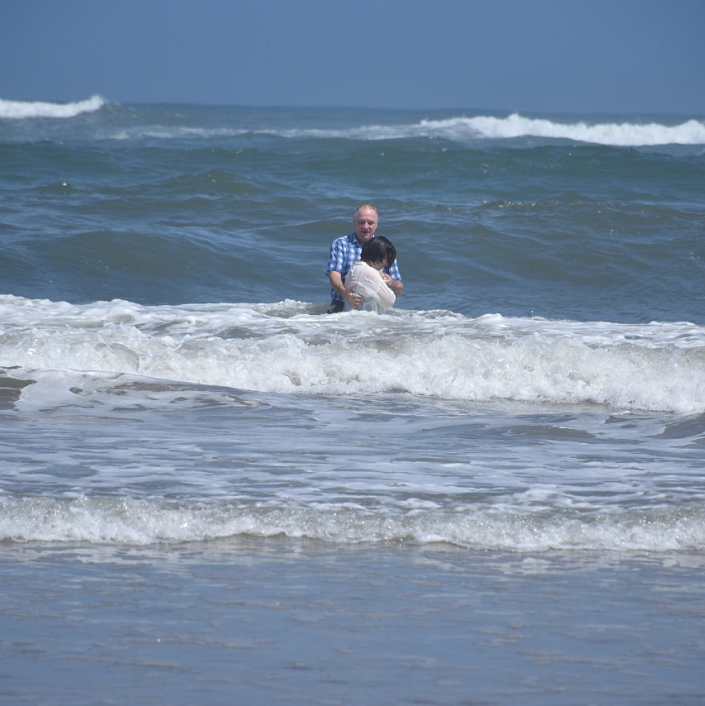 There are places on this planet where there are very few followers of Jesus. Japan is one of those places. Our mission, Fellowship International, has been sending missions-personnel to Japan for decades.

Currently, Rob and Kathryn Fleming, Steve and Jacquie Willson, and Chris Evangelista are in Japan with another new appointee seeking to go after his deputation goals are met. Please pray for Adam Pietrantonio.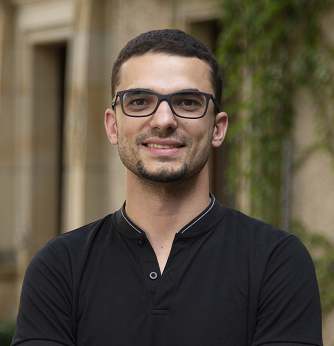 Adam Pietrantonio

The Flemings in Japan

A recent prayer newsletter from Rob and Kathryn caught my eye. A couple paragraphs capture a sense of ministry in Japan and the reason why we need to keep sending Fellowship folk from our churches to Japan. I'll let the Flemings speak to this: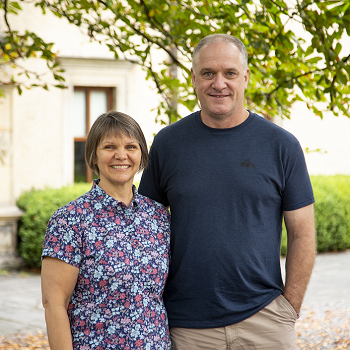 Kathryn and Rob Fleming

"We visited Hitachi Hope Church (this was our church plant from 1995-2005) last month. I (Rob) still go there to preach/teach once a month. The church is an average-sized Japanese church of 20-25 souls, with no pastor, as are 20% of churches in Japan. A single mom named Maiko will be baptized as soon as the big Pacific baptismal tank warms up in July. The average Japanese church has one baptism every five years or so.

"We also met with Rutsu, one of our Hitachinaka Oasis church members (our work from 2005-2014). Mrs. Fujieta followed her kids to oasis house church outreach in 2008, believed in Jesus along with her sister and children, and has continued in her journey. "She does not "go to church" as we think in the western tradition. She lives her faith, leaving for work 30 minutes early to be sure to have her Bible reading/prayer time, asking God to lead her every step of the day. Dependence on morning Buddhist idolatry has been replaced with the Bible and Jesus, and she has regular times of encouragement with another believer, where Rutsu serves as Mrs. Fujieta's mentor. That was not what we had in mind when we came to Japan 25 years ago, but it is, I think, a more natural expression of faith for Japanese than our western "go to church" expectations.

"We left behind two very different communities of faith in Jesus when we moved to Tokyo. But we continue to minister to Hitachi Hope Church and the remnants of Hitachinaka's Oasis Church.

Maiko's Baptism

A baptismal service is a big event in Japan. Japanese believers will see few believers baptized in their life-time. Our Fellowship International missionary, Rob Fleming, had the joy of baptizing Maiko this past July. He sent me her testimony which she read on the beach by the Pacific Ocean prior to being immersed. In fact, Maiko and Rob were immersed several times as the baptism occurred the day after a typhoon. The typhoon-generated waves made things a little rough.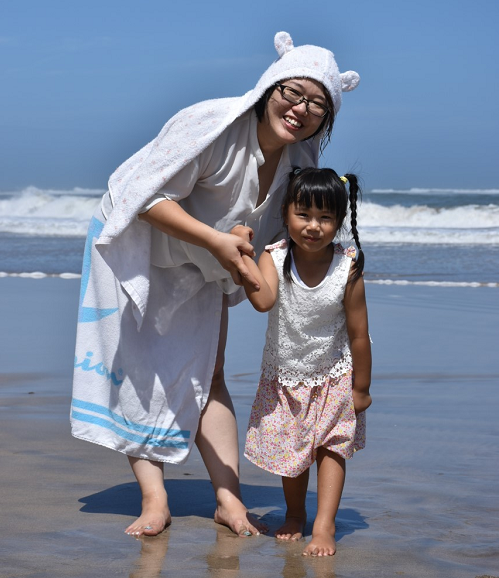 Maiko and her daughter

I read Maiko's moving testimony and I thought you would love to read it. So I received permission. Please enjoy, pray for Maiko and the Hitachi Church, and give God all the glory.

Maiko's Testimony

" 'Come to me, all you who are weary and burdened, and I will give you rest. Take my yoke upon you and learn from me, for I am gentle and humble in heart, and you will find rest for your souls. For my yoke is easy and my burden is light.' – Matthew 11:28-30

"I am Maiko, and this passage led me to believe in Christ.

"I started to believe in God right around the time when I gave birth to my daughter in Canada. At the time, my partner and I did not get along, he hurt me often, and did not help out with the pregnancy at all. I had no help because I did not have any Japanese friends and did not know God's teachings. Every day was tough and agonizing. It was about that time that an organization called, 'I'm Not Alone' reached out to me. This organization offered me used baby clothes, gave me tips on how to raise my child, and took care of me during and after my pregnancy. They also offered something similar to counselling as they would listen to my concerns. Around that time, Linda, one of the members of the organization told me about a church that was near by and gave me a Bible. Although I had been to church a few times since arriving in Canada, it was not because I believed in God, but rather because I was curious and because my friends were going.

"Although my partner and I separated after I gave birth, I constantly blamed myself saying, 'How could I have possibly chosen someone who was so helpless? Did I make a mistake giving birth? How am I going to support myself in the future?' I thought to myself, 'I am such a haphazard, stupid woman for giving birth to a baby outside of marriage.' Linda said, 'God will forgive you, even if you can't forgive yourself. Even if no one else forgives you, God will always be by your side and will forgive all of your wrongdoings. If God will forgive you, why would you need anyone else's forgiveness?' In this moment I felt God's mercy for the first time and cried. Although I had never really read the Bible deeply, I felt God's mercy. I soon began to study the Bible, and upon reading the passage mentioned above, I became a Christian. Since then, whenever I have run into problems, I always look for answers in the Bible's teachings. Through God's mercy I have gained peace, and by following God's Word, my life has completely transformed.

"Before this, if someone mentioned that they were a Christian, I would look down on them thinking, 'You actually believe in God? Why?' But now things are different. When I heard from Rob about a church in Hitachi where I lived after returning to Japan, I thought that I would go. God was present even when I was changing jobs. I had thought of quitting my previous job many times because it made me too busy, but I did not quit because I had faith that God was going to give me a sign of when I should resign. Then one day my boss decided to take maternity leave and said, 'You should probably resign now.' There could not have been a clearer sign for me, so I decided to submit my notice of resignation. I ended up applying for a new job before my resignation date and was accepted, which allowed me to transition into my current job without being unemployed. "My current work environment is wonderful. Even when I am not in control of things, my life has become much smoother as a Christian.

"There is another passage that I really like. 'Therefore, I tell you, do not worry about your life, what you will eat or drink; or about your body, what you will wear. Is not life more than food, and the body more than clothes?... For the pagans run after all these things, and your heavenly Father knows that you need them. But seek first his kingdom and his righteousness, and all these things will be given to you as well. Therefore, do not worry about tomorrow, for tomorrow will worry about itself. Each day has enough trouble of its own.' – Matthew 6:25, 32-34

"Someone once summed up this passage to me using a short phrase. They said, 'Believing God is like surrendering yourself to the flow of a river.' I cannot remember who said this to me, but I always remember this when I am going through a rough patch. Instead of worrying, I am able to think, 'If I leave it up to God, He will lead me where He wants me to be.' Without God I was alone and extremely sad. However, now I constantly feel God's presence within me, and I do not feel sad or fretful because I believe that He will protect me. I also believe that God has given me to this opportunity to get baptized.

"I thank God who has given me the opportunity to learn about His teachings and follow His commandments. I pray that I would continue to trust in God's power, follow His commands, and that He would lead me as I continue surrender myself up to Him.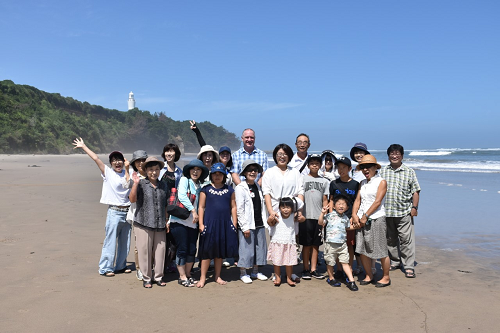 Hitachi Church

Please pray for Maiko and the Hitachi Church (three hours north of Tokyo) and our missionaries: the Flemings, Willsons, Chris, and Adam all seeking to make disciples in Japan.