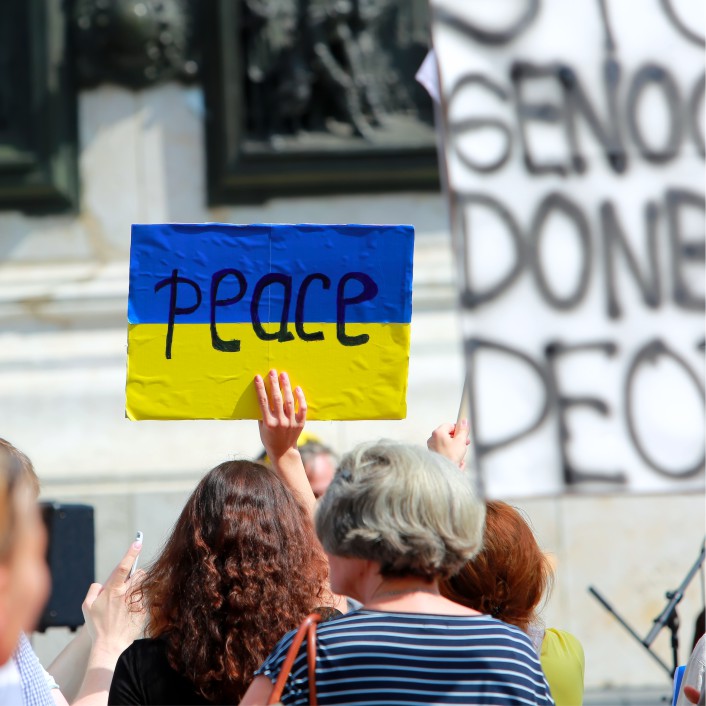 Poland
Ukraine Refugee Crisis
PROJECT #: 3416
Resources:
When Russia invaded Ukraine on February 24, 2022, waves of people began fleeing the conflict. The United Nations reports that as of late April, 5.3 million refugees had fled Ukraine, with Poland taking in the largest number of refugees — more than all other countries combined.
Fellowship International Associate Director, Luc Tétreault, has made two trips to Poland to assess the situation first-hand and assist our missionaries who are serving refugees. Fellowship International missionaries Pierre Jutras and Ben Taylor continue to work with our local church partners on the ground in Poland.
FAIR on the frontlines



FAIR's priority is to care for refugees and the internally displaced by working with local churches who are responding to the crisis. Our Fellowship International missionaries, Pierre and Hannah Jutras and Ben and Krista Taylor are working with an extensive network of churches in Poland and Ukraine to bring relief to hurting people. Every day, lives are being saved, people are brought to safety, and support is given to mothers and their children. The situation is very fluid and our team continues to be flexible in where they direct support to ensure that we can help the most people possible.
Our team is responding to many requests from Ukrainian churches asking for food supplies and transportation help. Each day they deliver shipments of food supplies to the border so that Ukrainian church partners can then deliver them to their communities. They then return to the border with groups of people fleeing the conflict.
Fellowship International personnel continue to support two emergency shelters that have been set up at churches in the Polish towns of Hrubieszów and Zamość near the Ukrainian border. While there are currently fewer refugees using these shelters, they are continuing to provide fresh food, clothing, a clean and warm place to rest, and travel assistance for refugees (mainly women and children) each day. Three vans have been purchased for the purpose of delivering supplies and helping refugees to travel to where they need to go in Poland.
What are some ways your gifts are being used?

The following are just a few of the many ways in which funds received through FAIR are being utilized to provide relief and assistance to those fleeing Ukraine:
$50 pays for a days' worth of fuel for a van to deliver essential supplies
$1,000 covers one days' worth of operating expenses of two emergency shelters
$2,000 sends a shipment of food to a church in Ukraine
$20,000 buys a vehicle for a Ukrainian church to deliver aid and help people escape the conflict.
Our Goal: $750,000
FAIR is seeking to raise an additional $750,000 above what has already been raised in order to meet the needs for relief supplies and refugee assistance over the summer months. Every gift is helpful.
Consider how the Lord would have you partner with FAIR financially, enabling our team in Poland to be the hands and feet of Jesus in the midst of this crisis. The needs are significant and will continue for some time to come.
VOLUNTEERING AND FAQ

The Fellowship has received quite a few inquiries from individuals indicating their desire to go to Poland to provide assistance. As you can appreciate, the situation in the region is quite fluid, and the pressure faced by team members as they seek to meet needs of refugees is significant. With this in mind, those wishing to volunteer in Poland are requested to connect with Fellowship International; they are coordinating teams with the field.

A FAQ (Frequently Asked Questions) sheet has been prepared to address some of the more commonly asked questions related to volunteering.
Please continue to pray:
Pray for peace in the Ukraine.
Pray that Ukrainian believers will respond in a Christ-honouring way.
Pray the Ukrainians desiring to flee the country would be able to do so safely.
Pray for strength for the Jutras and Taylors as they continue with very long and full days. Pray, too, for wisdom as they make decisions related to the caring of refugees.
Would you prayerfully consider how the Lord is calling you to respond to this urgent and critical need?
Your support to help alleviate human suffering through this appeal is greatly appreciated.