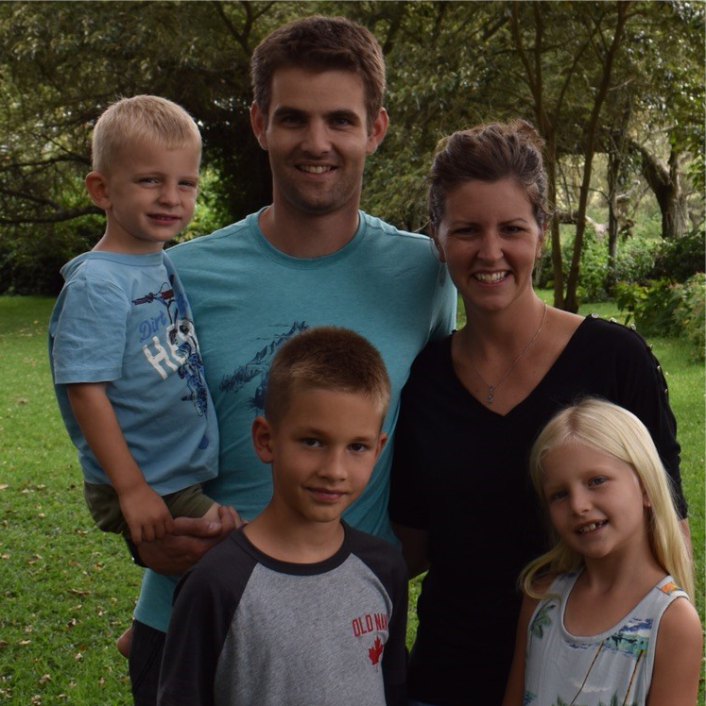 Madagascar
Thiessen
Jesh and Julie
CHURCH: Bay Park, Kingston, ON
Significant Dates:
∙ Applied for service in 2020.
∙ Departed for Madagascar in 2021.
With a history of missions in both of their families and in their own lives, Jesh and Julie have worked towards a career in surgical missions for many years. Raised in Christian homes, they both accepted Christ at a young age. It was their strong values and desire to use their gifts and skills to serve globally that eventually brought them together.
As Jesh was finishing his general surgery training at Queens University in Kingston, Ontario, they sought opportunities where they might use their skills. As a family they spent a few months at a rural hospital in East Africa and felt the Lord calling them to go into missions long-term in order to build relationships and invest in the lives of national doctors and the communities in which they would serve.
In 2017, Julie and Jesh, along with their three children, began serving overseas. They first studied French, and Jesh completed a two-year post-residency program with Samaritan's Purse, serving at multiple mission hospitals in Africa (Burundi and Togo). This time serving increased their understanding of medical missions while they sought where God would have them use their skills long-term.
In 2020, amidst the chaos of a worldwide pandemic, they made the decision to join a multi-cultural, multi-lingual team at the Good News Hospital in Mandritsara , Madagascar.
Their primary mission is to offer quality, affordable, and compassionate healthcare, while investing in a future generation of surgeons through discipleship and training.
Since arriving on the field in early 2021, the Thiessen family has seen exciting progress and development. This includes the approval of the Good News Hospital as a surgical training site for the Pan-African Academy of Christian Surgeons. In January 2022, they opened the doors of a new surgical building and welcomed their first two surgical residents.
The Thiessens continue to serve alongside their national colleagues to demonstrate Christ's love and bring the hope of the gospel through medical care and hospital development.